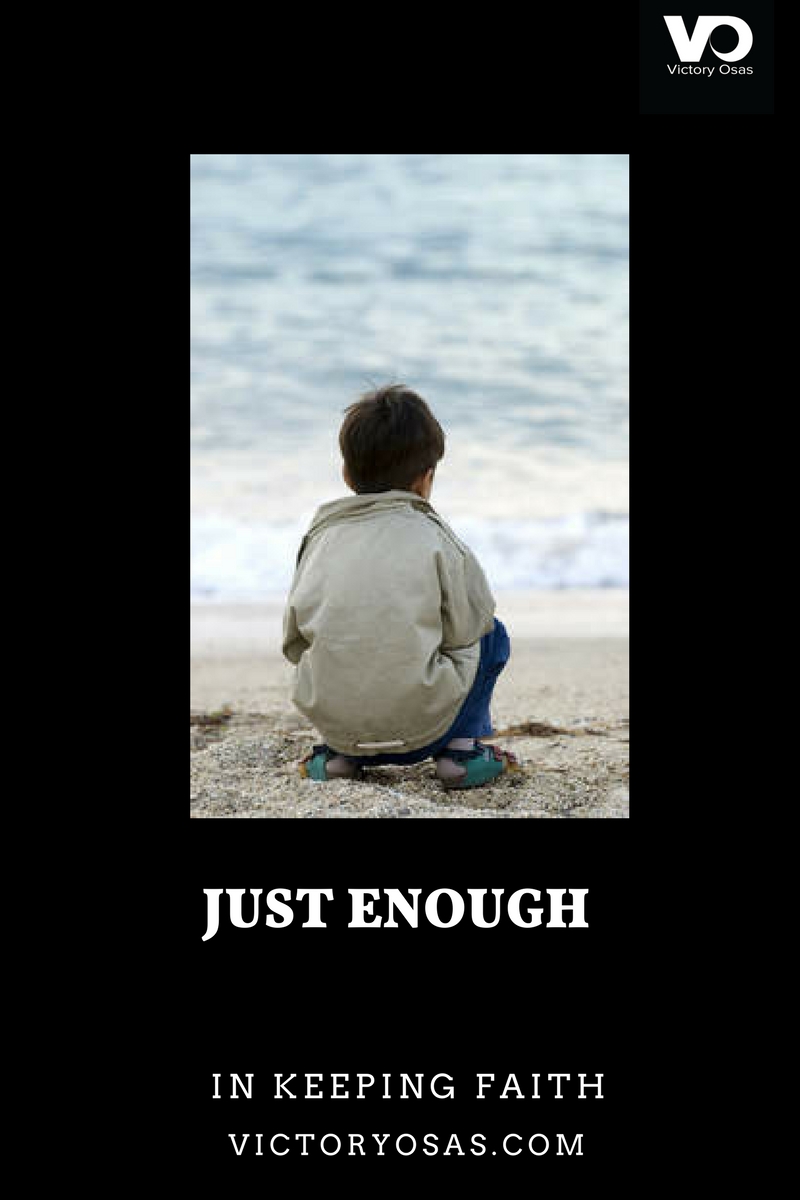 Just the other day, Temi said to me,
"I am tired. My knuckles hurt from pounding long hours on doors that have refused to pave way for my entrance.

To be honest, I don't think I can amount to anything, at least not with this script I have been living by. Not with the poverty that coughs in my face, and failure that has suddenly become a synonym for my name."
Well, this one is for Temi and any other person who has constantly recited a negative mediation for so long, one would almost think that it is the truth, but it is not.
You know why I like the truth. It always triumphs. Meet Gideon, a friend from Judges 16.
Gideon is going about his own business jeje when "the Lord" appears to him. The conversation starts with a greeting "The Lord is with you mighty warrior". Gideon replies "If the Lord is with us, why has all this happened to us?…
The Lord: Go in this your might and you shall save Israel from the hand of Midian, have I not sent you?
Gideon; Ah! How can I deliver Israel? ??See, my clan is the poorest in Manasseh and as if that is not enough, I am the least in my father's house.
Gideon, why such negative description of self, you call yourself the least, but God calls you "mighty warrior"?
Gideon, why do you think your background matters in this conversation, anyway?
It is not like "the Lord" doesn't know your biography,  I mean he doesn't sleep , so this means he didn't sleep-walk into your garden to start this conversation.
Let's continue…
The Lord: Surely, I will be with you and you shall smite the midianites.
Gideon stands with arms akimbo and says to himself; "did he hear me at all? I said my family is the poorest and I am the least…hmm let me confirm."
Gideon: Show me that it is you who talks to me (don't come and raise my hope only to discover that this was all one big joke).
You can read Judges chapter 6 to see how this beautiful conversation ends, I assure you that it was good.
Now,  I'm wondering whether or not you noticed that Gideon had a very low self image, confessing negatively and not believing that he was "good enough" to be used by God. Trust me, this wasn't humility, this was a result of amplifying all the negatives and believing that no good can force it's way through the strong doze of negatives around.
So to Temi, I know it's very easy to get dowsed in the smell of negativity, but this doesn't change the fact that our stories can be rewritten in such a way that we become the heroes in the books we read as kids.
What we need is a change of mindset. A re-learning to see failures as stairways that really lead to destiny. To see failure as a coma, a sign post that reads "to be continued, this one would rise above this nonsense" and not a full stop or an embarrassing tag that would not let our feet move freely.
Temi, this is what we need!
Here are a few thoughts that reflect a good self image (by Joyce Meyr).
1) Everyone has faults, so I am not a complete failure just because I am not perfect.
2) I want to make people happy and have them like me, but my selfworth is not dependent on what others think of me.
3) I will not be controlled by what people think, say or do. Even if they totally reject me, I will survive. God has promised never to reject me or condemn me as long as I keep believing
4) I am nothing, yet I am everything! In myself I am nothing, and yet in Jesus I am everything I need to be.
5) I can do all the things I need to do, and everything that God has called me to do, through His Son, Jesus Christ.
My favourite is nos 4. What is yours? Drop your comments here, I like conversation.
By the way, this if for the days that you would be tempted by your failures into believing that "you are not enough, look your failures in the face and say,  "I am more than this. I am enough".
Thanks for reading. I want to hear your thoughts.
*Temi is not a real person.